Friends of Byme is an article series that peers into the lives of Asian women of various backgrounds and lifestyles. Here we talk to Eileen and her experience as a new mother to a precious little girl.
Hi, everyone! My name is Eileen and I'm 28 years old. I live with my husband and we have a 1-year old daughter. I love her so much! She is so cute and loves running around.
Every day, I take care of my baby and the house. I shower her, play and feed her as well as making sure the house is neat and orderly. In the evenings, we would go for a walk and sometimes even do a little shopping together. I want my daughter to grow up safe and healthy. That's why I want to provide the best things in life for her.
Since being a mother, I find that the biggest challenge is the mental adjustment. A baby can be very unpredictable. She can be very well-behaved today but wouldn't stop throwing tantrums tomorrow. So, I really have to learn to tolerate and understand her needs. I also have to be patient, gentle, and stern all at the same time.
But, it's all worth it. The happiest part of my day is watching her smile, grow, and beginning to understand what her Mummy is nagging about!
Motherhood is very tiring. But I still manage to make time for myself - women need to take care of ourselves too. I love going for facials and massages to relax and unwind. Then, I can focus back on my family. I also try my best to stay healthy and strong for my daughter and husband.
One of my struggles after becoming a mother is that I don't have a lot of time to take care of my skin. Which is why I prefer a simple skincare routine, one that doesn't have complicated steps or too many products.
Because I have a baby now, I couldn't just use any products without learning about the ingredients. 
The products have to be safe and harmless
 so that my daughter can hug and kiss her Mummy all she wants and I don't have to worry! I also have acne and sensitive skin issues so the product has to be suitable for me.
Since using Byme Skincare, I find that I have more time for my baby. This is because Byme doesn't involve many steps. The product also absorbs quickly into my skin so I don't feel sticky or oily. Byme's scent is also soft and doesn't irritate. I love to smell nice whenever I'm with my baby. It makes me feel relaxed so she can be relaxed too.
I can even leave home without makeup because I feel so comfortable with my skin now. But what I love most about Byme is that it is suitable for my skin, does not irritate and reduces many of my pimples. I am glad that I was introduced to Byme!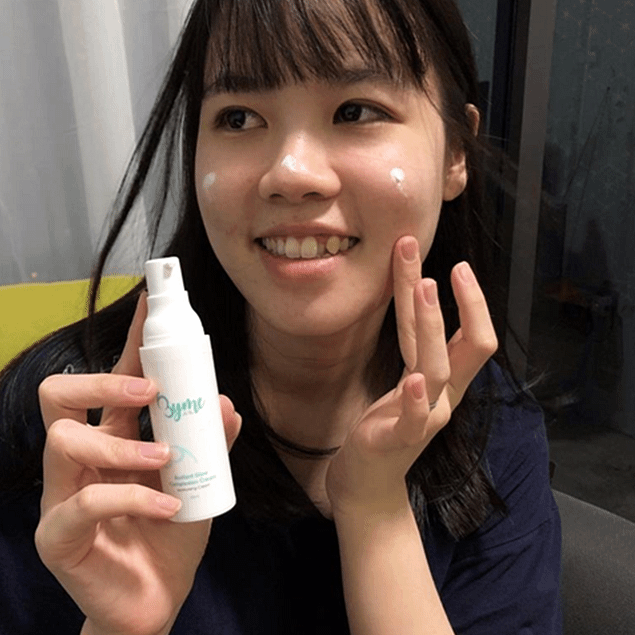 In a nutshell, Byme helped improve my skin, allows me to spend more time with my baby girl and overall make my life a little easier! Everyone should use a good skincare product like Byme Skincare. It can improve skin problems and 
help you become more radiant and beautiful in time
. Thank you so much, Byme!